https://stospartners.com/wp-content/uploads/2021/08/CoStar-Image.jpg
1598
1058
Stos Partners
Stos Partners
https://stospartners.com/wp-content/uploads/2021/08/CoStar-Image.jpg
Warehouse in Temecula, California, Trades for Near-Record $40.8 Million
Inland Empire Industrial Property Sells for 41% More Than Owner Paid in Early Months of Pandemic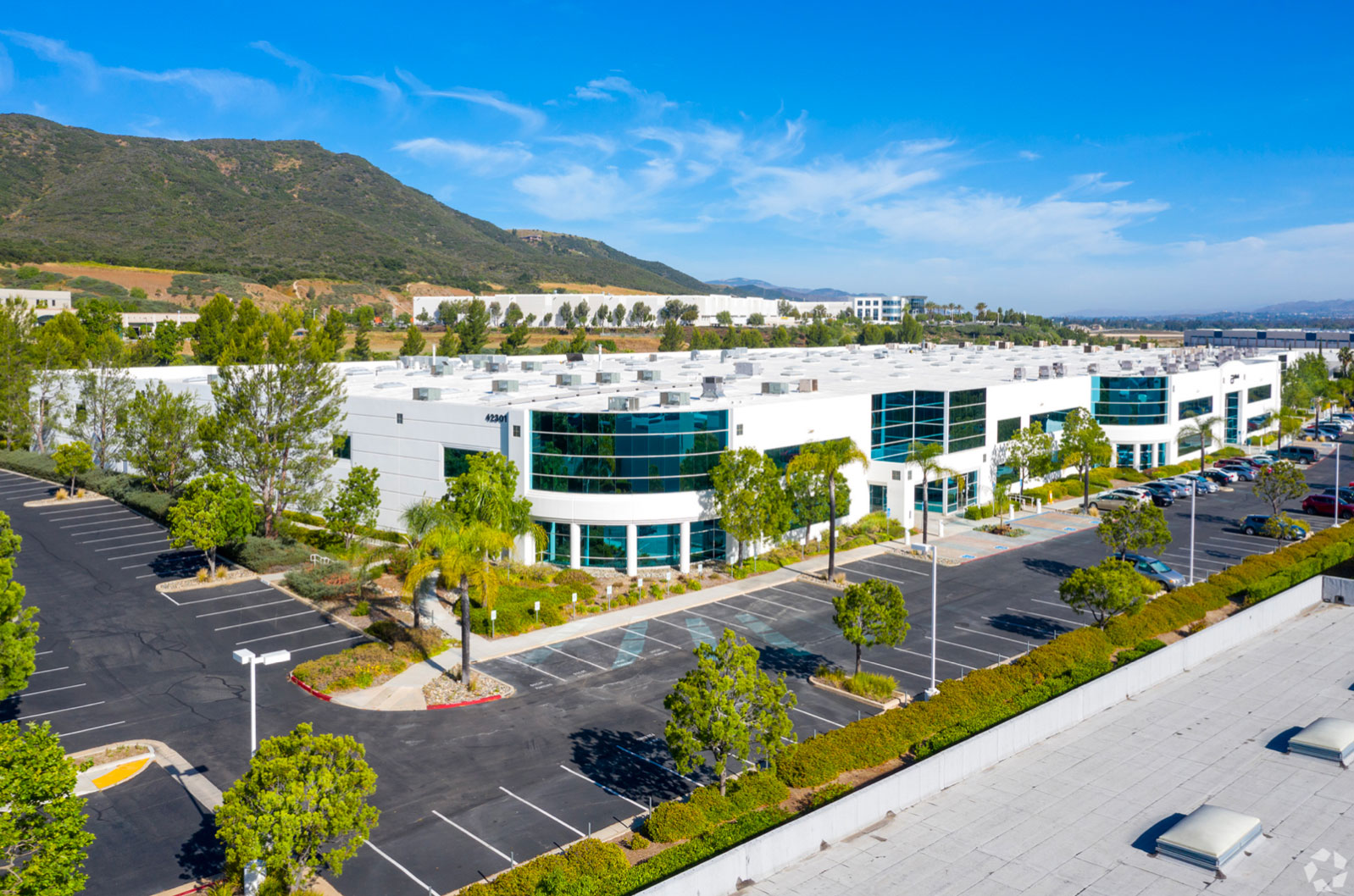 The Temecula Heights Corporate Center was built in 1998. (CoStar)
By Randyl Drummer | CoStar News
An industrial building in Temecula, California, has traded for the second-highest price on record for an industrial property in southwest Riverside County in a deal between San Diego-based real estate investors.
Encinitas, California-based Stos Partners sold the 23-year-old, 228,912-square-foot Temecula Heights Corporate Center at 42301 Zevo Drive for $40.8 million, the seller said in a release. The price paid by San Diego-based real estate developer Sentre Inc. is more than 40% higher than what Stos paid for the property almost 16 months ago, according to CoStar and public sale documents.
The only industrial deal on record in the Inland Empire Temecula market to exceed that price in total dollar value is the May 2019 sale of the 615,000-square-foot 42500 Winchester Road building for $54.7 million to Conshohocken, Pennsylvania-based real estate investment rm Exeter Property Group, according to CoStar.
Stos bought the building for $29 million in April 2020 and in November signed computer parts wholesaler Evertek Computer Products Corp. to a long-term lease of roughly 37,000 square feet, according to CoStar. And Healthcare rm Abbott Vascular, another tenant at the property, renewed its lease of 192,000 square feet last year.
Temecula is attractive to industrial investors because of its proximity to afluent consumers in the area as well as nearby Orange and San Diego counties. Most buildings are small or mid-sized, and development has been rare in the area, especially compared with neighboring Moreno Valley and Perris, which is one of the most active areas for industrial construction in the Inland Empire, according to CoStar Market Analytics.
The sale of the Temecula property comes on the heels of Stos Partners' sale last month of a cold-storage facility in the North San Diego County suburb of San Marcos for $42.2 million, more than double what the seller paid just a year ago.
Stos Partners forged ahead while many rms hit pause and stayed on the sidelines early in the pandemic, Executive Vice President Jay Boyle said in a release.
"We were able to successfully turn $50 million in investments into $82 million in sales within an 18-month ownership period," added Stos Partners principal C.J. Stos.
For the Record
Darla Longo, Barbara Perrier, Louay Alsadek and Hunter Rowe with CBRE alongside Bob Willingham with Kidder Matthews and Scott Stewart with Lee & Associates represented Stos Partners in the transaction.