https://stospartners.com/wp-content/uploads/2020/01/Parking-Lot-Land.jpg
655
384
Stos Partners
Stos Partners
https://stospartners.com/wp-content/uploads/2020/01/Parking-Lot-Land.jpg
Blau Journal: Stos Partners Acquires Mission Critical San Diego Parking Site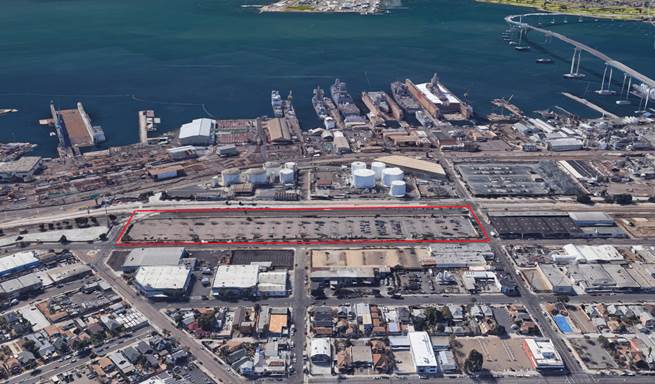 January 17, 2020 – Stos Partners, a privately held commercial real estate investment and management firm, in conjunction with an institutional partner, has acquired a 5.8-acre parking lot land site near the Port of San Diego for $26.47 million from a private entity.
With this recent transaction, Stos has completed nine acquisitions this year totaling $81.5 million and sold four assets totaling $48.36 million, bringing the firm's total transaction volume to more than $130 million in Southern California in 2019.
"THIS ACQUISITION IS DIRECTLY IN LINE WITH OUR OVERARCHING INVESTMENT STRATEGY, WHICH IS TO IDENTIFY AND ACQUIRE UNIQUE, HIGH-QUALITY ASSETS IN IRREPLACEABLE LOCATIONS," SAYS CJ STOS, PRINCIPAL OF STOS PARTNERS. "AS THE ONLY SIGNIFICANT PARKING LOT IN THE AREA, WE IMMEDIATELY RECOGNIZED THE POTENTIAL OF THIS ONE-OF-A-KIND SITE AS MISSION CRITICAL TO THE MANY DEFENSE CONTRACTORS IN THE VICINITY WHO SERVICE NAVY SHIPS."
Located directly under the Coronado Bridge at 2210 – 2310 Main Street in San Diego, the parking lot is currently 100% leased to a defense contractor.
This acquisition comes on the heels of Stos Partners' recent addition of 5816 Dryden Place, a 22,156 square-foot multi-tenant R&D/office property in Carlsbad, California, to its portfolio. The firm will implement cosmetic improvements and building upgrades to attract small to mid-sized tenants to the property.
According to Jason Richards, a Partner at Stos Partners, the firm plans to leverage its deep experience as one of the most active buyers of industrial, flex, and office product in Southern California and expand its focus to several markets throughout the Southwest U.S.
"Looking ahead, we will continue to build upon our proven strategy of identifying local and national trends, strengthening our existing portfolio by drawing on our relationships, reputation, and expertise in these property types," says Richards.
Prominent trends include a growing need for last-mile and cold storage facilities. The U.S. cold storage market size is expected to reach $19.69 billion by 2025, due to rising consumer demand for healthy food and increased participation from the private sector, Richards notes.
"Grocers and other industries are adopting Amazon's model and purchasing individual last-mile locations for cold storage," continues Richards. "Stos Partners recognized this, successfully completing two cold storage transactions in 2019, and we expect the trend to continue well into 2020 and beyond."
Since its inception, Stos Partners has acquired properties with a total acquisition value of more than $530 million, including properties in California and Texas.
Article source: blaujournal.com